Davis, California is a small university city with a vibrant and engaged community. With its population of students, professors, professionals and blue-collar employees, its socio-economic demographics may be bewildering for the planner, marketer, or researcher. Enter the Tapestry dataset, which does all the heavy analysis for you by crunching through reams of demographic data to succinctly classify neighborhoods into 1 of 65 segments.
Recently, we mapped the Tapestry segments of Davis, with the results and interactive map below.
The City of Davis, California, according to the Tapestry dataset, is largely comprised of these five Tapestry segments:
1. College Towns
2. Enterprising Professionals
3. Urban Chic
4. Laptop and Lattes and
5. Connoisseurs
Dorms to Diplomas and Boomburbs comprise an additional 10% of the total, collectively. So you might wonder, how are these segments distributed over the many Davis neighborhoods? See the map.
View Davis Tapestry Map
A preview of what the Tapestry data says about the College Towns segment.
COLLEGE TOWNS
Education is the focus for these residents; approximately 41 percent is enrolled in college or graduate school. The median age is 24.4 years, with a high concentration of 18-to-24-year-olds. One in eight lives in an on-campus dorm; others rent low-income apartments off-campus. Nearly 31 percent are "townies" who live in owner-occupied, single-family housing with a median home value of $139,028. Convenience is the primary feature of food purchases; residents eat out, order in, or eat easy-to-prepare meals. Many own a laptop computer. They jog; go horseback riding; practice yoga; play tennis; rent videos; play chess or pool; attend concerts, college football or basketball games; and hang out at bars. They listen to classical music and public radio.
Breakdown of Davis Neighborhoods according to the Tapestry data.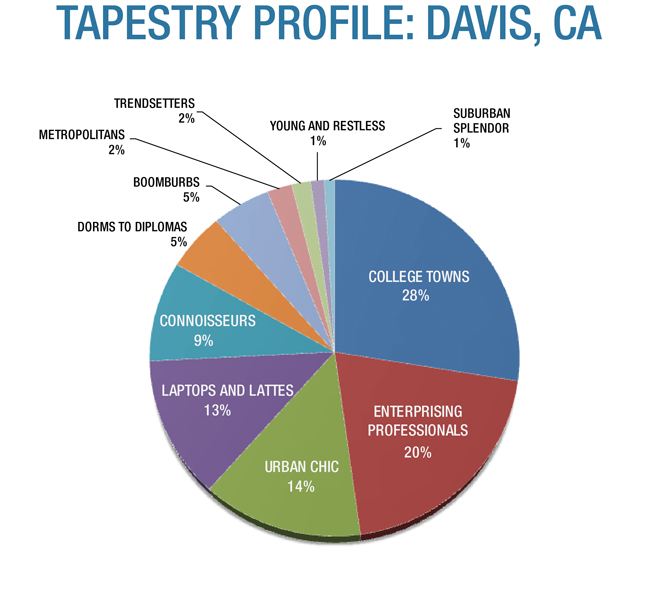 View Davis Tapestry Map
ABOUT THE TAPESTRY DATASET
The Lifestyle Tapestry data defines geographic areas into Lifestyle segments, from the county level down to the Census Block Group level. The dataset was created through an in-depth analysis of socio-economic data.
Use Tapestry Data in your Project